"And they brought it to Jesus, and throwing their cloaks on the colt,
they set Jesus on it. And as He rode along, they spread their cloaks on the road.
As He was drawing near-- already on the way down the Mount of Olives--
the whole multitude of His disciples began to rejoice and praise God with a loud voice
for all the mighty works that they had seen, saying,
"Blessed is the King who comes in the name of the Lord!
Peace in heaven and glory in the highest!"
And some of the Pharisees in the crowd said to Him,
"Teacher, rebuke your disciples."
He answered, "I tell you, if these were silent, the very stones would cry out."
Silent too long, I am compelled to rejoice...
so I start counting again,
because the gifts are too great, the majesty too marvelous, the love too grand!
1146
For You and You alone
Awake my soul, awake my soul and sing
For the world You love
Your will be done, let Your will be done in me
In Your prescence, in Your power
Awakening
For this moment, for this hour,
Awakening
~Chris Tomlin
1147
A renewed vision, priorities re-visited... His faithfulness to all generations
1148
The clarity of His call, the power to trust and obey, and the guarantee of eternity with Jesus
1148
Discipleship, accountability, and 5 sisters in Christ... following hard together after Him
1149
Summer
1150
These.four.babes.
At.the.beach.
1151
Eleven wonderful summers on the sands of North Myrtle
Thank you, thank you, thank you, Gramoggie & Poppa!!
1152
Family traditions
1153
The last of the garden's harvest... red & yellow bite-size goodness!
1154
A new school year with new books, new subjects, and a new routine
1155
Plus cooler temps outdoors, open windows, and gentle breezes throughout
1156
Backyard shenanigans
1156
"Faster wheels" and a seven year old's determination
1157
Daddy home after a week in California
1158
In-&-Out Burger-- the silver lining to his west coast travels... sometimes even twice in 1 day
1159
Hand-me down sneakers and hand-me shorts... both with a touch of pink. Sheer bliss.
1160
Training wheel removal and the hope of riding success
1161
A chance to try again tomorrow :)
1162
Walks around the neighborhood.
Frisbee in the park.
Laughter all around.
1163
Home
"So we Your people and the sheep of Your pasture
Will give thanks to You forever;
To all generations we will tell of Your praise."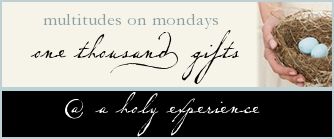 and the list continues...