Come, Thou fount of every blessing
Tune my heart to sing Thy grace
Streams of mercy never ceasing
Call for songs of loudest praise
Teach me some melodious sonnet
Sung by flaming tongues above
Praise the mount, I'm fixed upon it
Mount of Thy redeeming love.
His mercies never ceasing, I keep on counting...
so, so thankful for His goodness and love!
1164
A cool, brisk morning
1165
A quiet, sleeping house
1166
God's colors painted acorss the sky... the sun rising to its appointed place
1167
A brand new day
1168
And the many changes it will bring
"This is the day the Lord has made;
let us rejoice and be glad in it."
1169
Sisterhood
1170
My dear sister-in-love and a full day together-- even though surrounded with moving boxes
1171
Child laughter outdoors, little bodies running all.day.long.
1172
While we packed the kitchen-- oh, how I'll miss those faces!
1173
Cousins!!
1174
Thoughts of other little, special folks, too far away in SC... and the hope of seeing them again soon.
1175
And their mama-- a gift to our family.
I think these are her favorites :)
1176
Family... even the furry ones!
1177
A party to celebrate a precious little girl... due in Novemeber... anxiously anticipated by all
1178
Her mama
1179
And one of our favorite reminders (thanks to our favorite, Beth Moore)--
Pink is *always* God's will.
We need never pray about pink!!
Amen.
1180
The moment when humanity
Is overcome by majesty
When grace is ushered in for good
And all our scars are understood
When mercy takes its rightful place
And all these questions fade away
When out of weakness we must bow
And hear You say "It's over now"
I'm alive...
1181
"The thief comes only to steal and kill and destroy.
I came that they may have life and have it abundantly."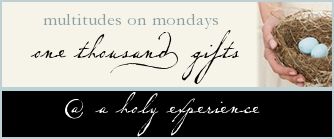 and the list continues...