On Saturday, my smallest musketeer turned seven.
Seven.
How did THAT happen?
And... where DOES the time go???
Still, fly by it does, so today I add another page to my journal.
As I remember. And laugh. And smile. And rejoice.
Because my little boy turned seven.
And because God is so very, very good.
1107
This boy
1108
... and seven phenomenal years with him
1109
His spunk. His zest. His strength. His heart.
1110
My. Big. Man.
1111
His birthday party at home... just the way he wanted
1112
... with superheroes -- a Lego Ninjago cake, Transformers plates & napkins, and a Batman
pinata
1113
Celebration!
1114
And a number 7 candle on top.
1115
This time to rejoice
1116
With friends & family gathered round (more then a wee bit blurry, but gathered round nonetheless :)
1117
Legos. Legos. Legos. And countless other thoughtful gifts.
And clearing after the rain for outdoor games
1119
1120
And a big tree with a branch at just the right height
1121
For a little pinata fun
1122
... with special people
1123
And the privilege... the honor... the gift of parenthood.
How could I ask for more?
"Behold, children are a gift of the LORD,
The fruit of the womb is a reward.
Like arrows in the hand of a warrior,
So are the children of one's youth.
How blessed is the man whose quiver is full of them..."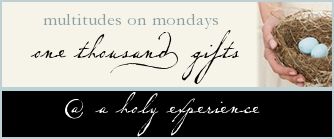 and the list goes on...