It's been a long, cold winter. Gray. Cloudy. Rainy. Even bitter.
But Christ's mercies are new every morning, and this a.m., it's time. Time to bounce back. Time to wipe the dust from my hands. Time to taste and see the goodness of the Lord... His splendor, His majesty, His boundless, limitless love. For me. Every single day.
So today I give thanks.
And I count... one by one... the gifts of His hand.
"O taste and see that the LORD is good;
blessed is the man that trusteth in Him."
919
long winter months... which make the newness of spring all the more lovely
920
daffodils and hyacenths, azaeleas and dogwoods
921
green
922
and yellow
923
and a garden just bursting with life
924
year-round swimming for Big Man and wonderful, wonderful success
925
an award's banquet on Sunday afternoon-- my 3 boys together (plus a little green lady squished in between :)
926
with medals to bring home...
927
Big Man's very first one
928
plus~ a coach's sense of humor... like when he asked Noh-man not too long ago if Chris and I were planning on having more children because our family has been good for the team :)
929
reminders to SLOW DOWN and savor each moment
930
time
931
"Look, Mommy! Precious little grapes!!"
~Lollipop, referring to the flowers (below) in the garden
a Saturday outing for the girls...
933
to Bruster's for ice cream. A very, very favorite place... well worth the hour-long drive... especially when there are googly eyes and sprinkles on top :)
934
boys in the woods-- camping with friends
935
homebound... just me and my gal
936
rest
937
"the peace"
938
blue skies
939
and play time OUTSIDE!!!
940
the beauty of SPRING
... with my crew.
How could I ask for more??
"The LORD is my light and my salvation; whom shall I fear?
The LORD is the strength of my life; of whom shall I be afraid?"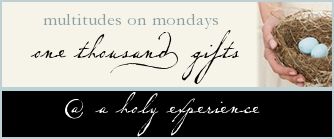 and the list continues...