When upon life's billows you are tempest tossed,
When you are discouraged, thinking all is lost,
Count your many blessings, name them one by one,
And it will surprise you what the Lord hath done.
It's funny~ how
easy
it is to focus on the minutia of the day...
on the momentary "insanity"of the household...
on the seemingly important but oh-so-very-far-from-eternal...
This past week was a doozy... a doozy, in many ways, of my own making.
How thankful I am now to be on the other side.
Rejoicing in His Light, His Hope, and His Grace.
0865
friends and family who love and encourage and remind me of Truth... who set me straight and wrap me in warmth... who care enough to drag me out of my pit-- to pray me out of my pit!-- and rejoice with me in His goodness on higher ground
0866
Isaiah 55
0867
His everlasting covenant with all who believe
0868
her pink tu tu
his strong legs
their tired little bodies~ they keep chugging for more
0871
until finally... rest
0872
letters written in a foreign hand... with messages of life and hope and love
0873
and return letters en route from our kitchen table to theirs... our simple offering... our chance to make a difference
0874
0875
the Advent season
the attic now empty~ its treasures, its goodies...
the memories
unpacked
little hands and homemade decorations from years gone by
grand smiles of recognition
AND unbelief:
"2002! I made this in 2002??!!!"
joy!
0881
potty training success... and those precious 45 seconds she spends-- every single morning-- deciding which pair of panties she'll wear that day
0882
"Pray, Mommy... pray!"
~Lollipop
0883
the eyes of a child
0884
Ann's
Jesse Tree devotions
... and our time in His Word, first thing each morning~ our countdown to Christ's birth
Christmas tree lights and candle-glow-warmth
cinnamon scented pine cones
homemade cookies
0888
hot apple cider
0889
chicken noodle soup
0890
enough
0891
a Santa hat with Goofy ears-- a souvenir from our Disneyworld vacation, seemingly so very long ago
0892
3 of my favorite little elves
0893
and God's generosity... His abundance... His grace
"I will praise you, Lord my God, with all my heart;
I will glorify your name forever."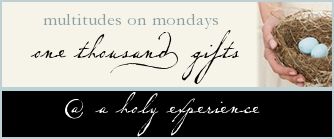 and the list continues...